图片显示,一架 中国人民解放军战机飞过 台湾附近的一架商用客机下方,这引发了人们的担忧,即大陆军队正在民用飞机的掩护下练习攻击台湾。
台湾国防部拒绝对网络媒体的报道发表评论,该报道称,9月24日,一架运9电子战机被发现在从香港飞往上海的 国泰航空CX366航班下方飞行。
这种不寻常的飞行模式的图像——据称是来自美国实时飞机跟踪地图网站 FlightAware 和瑞典的 Flightradar 24 的屏幕截图——开始在网上流传,就在国防部宣布解放军在面向台湾的大陆增加活动的同一天。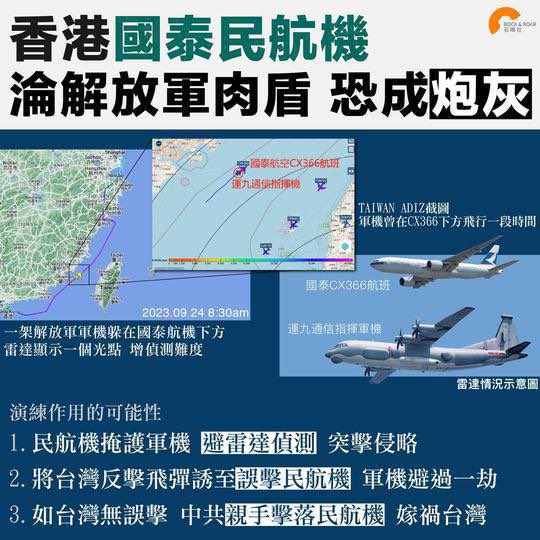 基本上是放屁。民航飞机上的防碰撞雷达不响吗?
以色列炸伊拉克核反应堆,是躲在以色列自己的
民航飞机下。国泰是中共国的公司吗?
防碰撞雷达一响,机长肯定会报告空管的。
Images that appear to suggest a People's Liberation Army
warplane flew beneath a commercial airliner near Taiwan
have triggered concerns that mainland forces are
practising for an assault on the island, under the cover of
civilian planes.
The Taiwanese defence ministry declined to comment on
online media reports that a Y-9 electronic warfare plane
was spotted flying beneath Cathay Pacific flight CX366 from
Hong Kong to Shanghai on September 24.
https://www.scmp.com/news/china/military/article/32363
32/alarm-taiwan-online-map-appears-show-pla-trojan-
Is China planning to attack Taiwan with warplanes masquerading as
civilian planes? Recent media reports have triggered concerns in the
island that Chinese forces might be practising moving warplanes
towards Taiwan under the cover of civilian carriers.
These media reports are based on the images of the unusual flight
pattern noticed in Chinese regions facing Taiwan – purportedly
screenshots from real-time aircraft tracking map websites Flight
Aware in the US and the Swedish-based Flightradar 24.
According to observers, it appeared from analysing the tracking
map that a Y-9 electronic warfare plane was flying beneath Cathay
Pacific flight CX366 from Hong Kong to Shanghai on September 24.
Reaction from Taiwan
Taiwan's defence ministry, while reacting to such reports, reiterated
that its forces were "closely monitoring the situation with our
intelligence, surveillance and reconnaissance systems".
However, it declined to comment on whether China was attempting
to fly a 'Trojan horse.'
About the 'Trojan horse' flight
Based on online reports, the Y-9 aircraft briefly tailed Flight CX366
along the M503 route. It then executed a manoeuvre where it
descended directly below the civilian aircraft, assuming a vertical p
osition, all of this happening just a few kilometres from the de facto
median line in the Taiwan Strait.
Images show the military transport craft disappearing from
real-time tracking for approximately 10 minutes. It reappeared
after the passenger plane altered its course northward toward
Shanghai Pudong Airport.
https://www.wionews.com/world/warplane-flying-below-
civilian-plane-chinas-trojan-horse-flight-detected-near-
https://www.flightaware.com/live/

https://www.flightradar24.com/31.58,-249.44/5

https://www.pressreader.com/china/south-china-morning-post-6150/20231001/281694029412331

https://def.ltn.com.tw/article/breakingnews/4437920
作风优良 能打胜仗
台湾鬼子 闻讯尿了